Ashton Kutcher has revealed that there was no way his wife Mila Kunis was going to let him turn down a role in the new series That '90s Show.
The married couple had originally been co-stars in the 90s TV show That '70s Show. So, naturally, when the duo were given the chance to reprise their roles as Jackie and Kelso, Kunis refused to let her husband turn it down.
That '70s Show was a hit when it came out, focusing on a group of high school friends in the 1970s and their hilarious exploits.
Kunis, 39, and Kutcher, 44, both starred in the series, as well as Wilmer Valderrama and disgraced actor Danny Masterson.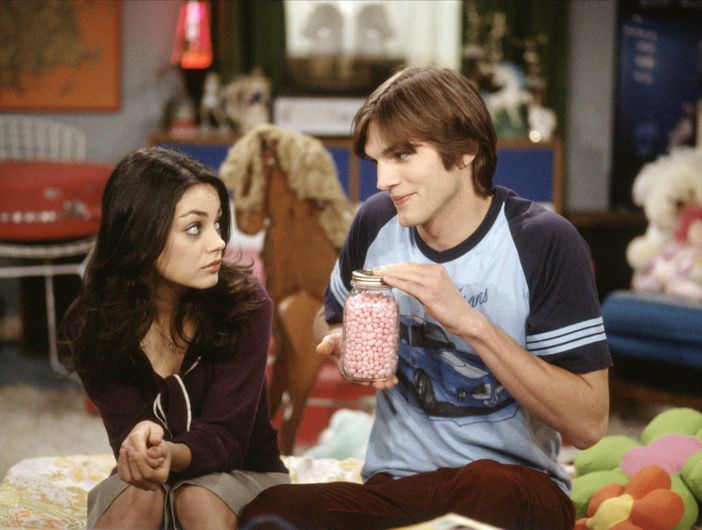 Kutcher and Kunis both starred in 'That '70s Show' during the 90s. Credit: AJ Pics / Alamy
Now, the show has returned under a slightly different name – That '90s Show. It has been co-developed by That '70s Show creators Bonnie Turner, Terry Turner, and Mark Brazill, as well as Lindsey Turner.
In a recent interview with Esquire, Kutcher recounted the moment he and Kunis received the scripts for the new series. In fact, Kunis was so down to do it that not even a bad script would deter her.
And according to Kutcher, the Ted star insisted they both agree to the project. "[She] goes, 'You know, we owe our entire careers to this show. It doesn't matter what the script is, we're doing it,'" he said.
According to Variety, the latest show centers on the life of Leia Forman – who is the daughter of That '70s Show characters Eric Forman (Topher Grace) and Donna Pinciotti (Laura Prepon). All the original cast members appear in the show.
Kunis' and Kutcher's characters are also married in the reboot, something that she didn't initially like. "My husband and I are together in [the new show], which is weird because we shouldn't have been," she stated.
"You know what, I called B.S. I was like, 'My character would be with Fez [Wilmer Valderrama] I think that I ended up with Wilmer [Valderrama]'s character. And I was like [to Ashton], 'Why are you and I together?' And also, he was married when "70s' ended to Shannon Elizabeth's character, I think," Kunis told Access Hollywood.
In the original series, Kunis' Jackie and Valderrama's Fez ended up together, despite Jackie and Kutcher's Kelso dating for a long time throughout the show (which aired from 1998 to 2006). Kelso then had a baby with Shannon Elizabeth's Brook. Kunis, however, still ships Jackie and Fez.
"Now we're like 20 years – no, 16 years later, whatever it is, and now we're married with a kid," she said about Jackie and Kelso in the latest Netflix series. "And I was like, 'I don't know about this one.'"
That '90s Show is available to stream now on Netflix.