Beyoncé is going on tour – and it appears that some of her fans will do anything to secure a ticket to see her.
Earlier this week, the 'Single Ladies' megastar revealed that she would be embarking on her highly-anticipated Renaissance world tour – that will see her sell out stadiums in cities across North America and Europe, including Las Vegas, Seattle, New Orleans, London, Amsterdam, and Barcelona.
The announcement marks the first time Beyoncé has toured in seven years.
Queen B will kick off her tour on May 10 in Stockholm, with the final performance currently scheduled on September 27 at Caesars Superdome in New Orleans.
As you can probably imagine, when the biggest pop star in the world announces a world tour, it's only natural that many of her fans were freaking out (and that really isn't an overstatement).
The singer's Instagram post announcing the tour – which is named after her hit 2022 album – has since been flooded with over 210,000 comments, with many fans begging the star to "add more tour dates" and come to their respective cities.
However, according to current prices circulating online, tickets for the tour won't come cheap – with Ticketmaster already announcing that fan demand has exceeded the number of tickets available "by more than 800%".
As a result, desperate fans have taken desperate measures – with a number of people launching GoFundMe pages in order to try and raise enough money to secure a seat in the crowd.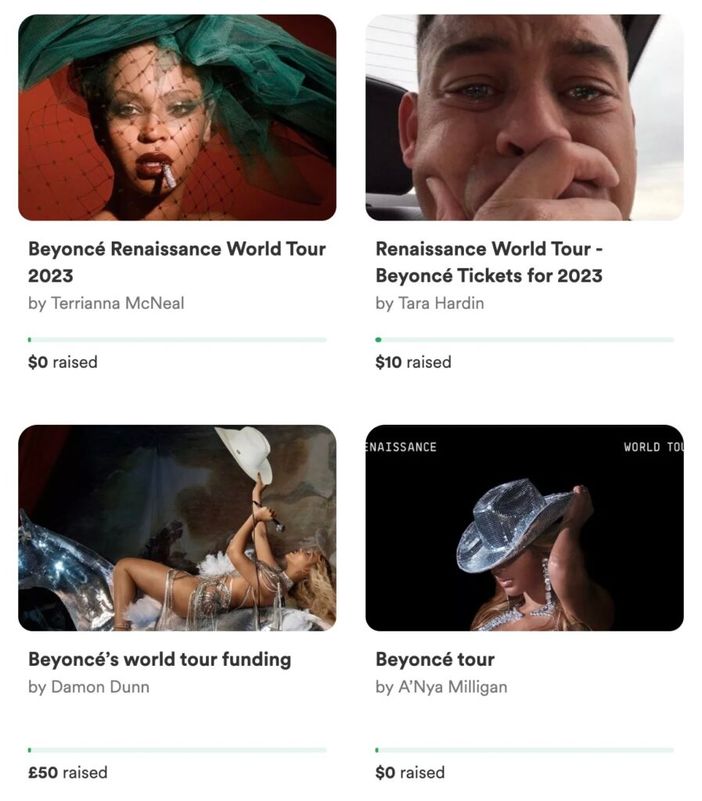 On one fundraising page – titled 'Beyoncé World Tour 2023' – the organizer writes in the description: "Hello my fellow Beyhive, family, and friends. 'Listen'…I would love your financial support in sending me to Beyoncé World Tour 2023. I haven't missed a Beyoncé concert yet, but I got 'bills, bills, bills'.
"Financial contributions will go towards my Renaissance ticket, travel, and wardrobe (IVY PARK|Park Trail) to get me in 'Formation'."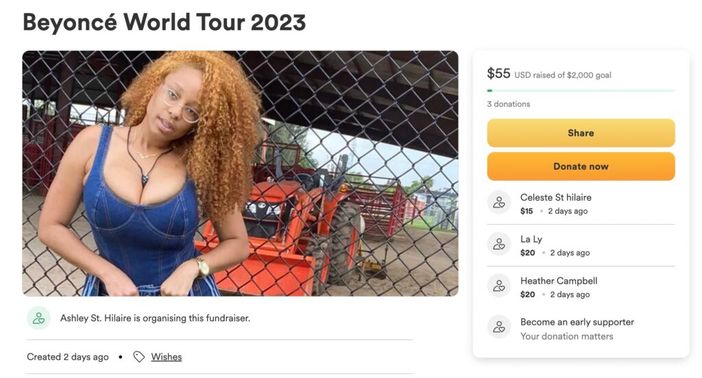 As of this writing, $55 has been raised of the $2,000 target.
A second page explains in its description: "This is literally a once in a lifetime experience for anyone who gets the chance to experience Club Renaissance in the best way.
"I don't want to choose between bills and Beyoncé so I felt like this would be an appropriate way to raise money. This is a long shot but here it goes. If I can go and see her this year in July I would have truly lived and know that I was here."
That page has raised $10 of its $500 as of this writing.
And another fan of the star writes on their fundraiser page: "I fought the urge to do this for fear of judgement and because I am sure many people will find this silly but this album means so much to me. She means so much to me. And I am just trying to make my dreams come true. Please do not judge- just dont donate if you think this is insane."
They have had more success than the others mentioned, raising $275 CAD of their $500 CAD target.